Product name :Testosterone Propionate
Other name: Test Propionate; Testosterone Propionate; Agovirin
Category: Anabolic Hormones; Anabolin; Anabolic Steroids; Steroid Powder; Hormone Powders; Bodybuilding; Raw Powder; Muscle Building; Muscle Gains; Steroid Compound; Short Esster
Molecular Formula: C22H32O3
Molecular weight:344.49
CAS No.:57-85-2
Puriy: 99%
Appearance: White powder.
The min. order is 10 grams
Molecular structure: ☛
Usage:Testosterone propionate is therefore much faster acting than other testosterone esters such as cypionate or enanthate, and requires a much more frequent dosing schedule, in order to maintain stable blood levels.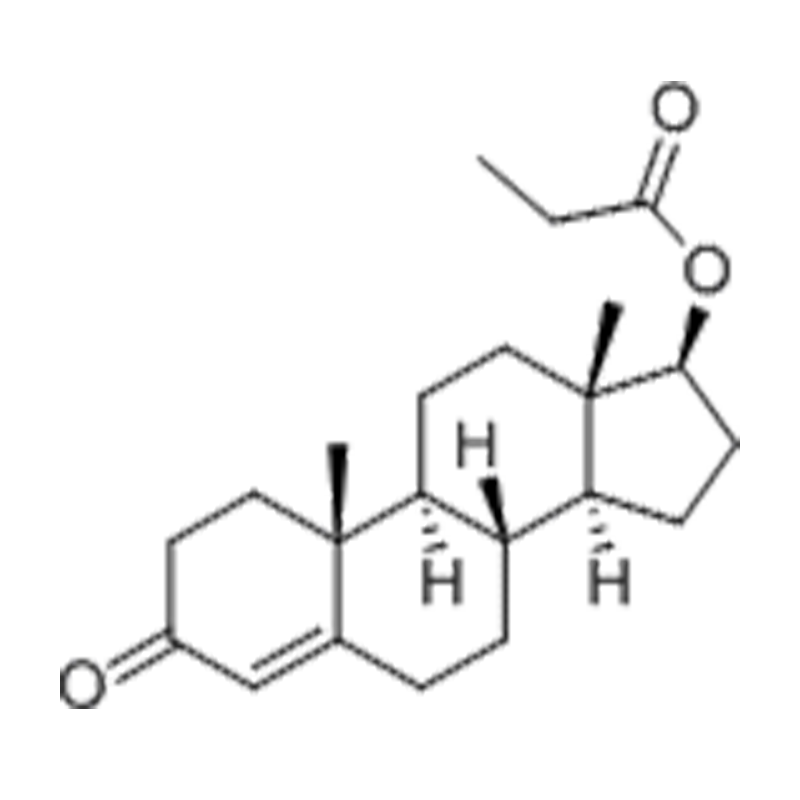 Effective dose: 200 - 1000mg per week
For: 12 - 24 weeks
----Primary Health User
Every two days injection 100mg, 8 weeks
----Fitness intermediate user or Advanced fitness users
Injection 75mg daily for eight weeks, and other products can be used with better results.
CAS No.:

57-85-2

Einecs No.:

200-351-1

Appearance:

White crystall powder.

Form:

Powder

Feature:

Natural

Product Name:

Testosterone Propionate

Function:

indicated as a sympathicolytic and mydriatic. It may have activity as an aphrodisiac
Test Prop for 5 grams 50 ml @ 100mg/ml

5 grams powder

36.25 ml sesame oil

2.5ml Benzyl Alcohol = 5%

7.5ml Benzyl Benzoate =15%

Test Prop for 10 grams 100 ml @ 100mg/ml

10 grams powder

72.5 ml sesame oil

5ml Benzyl Alcohol = 5%

15ml Benzyl Benzoate = 15%

Test Prop 250ml @ 100mg/ml

Testosterone Propionate Powder 25g

Benzyl Alcohol 5ml

Benzyl Benzoate 45ml

Grapeseed Oil 181.25ml

Test Prop 250ml @ 200mg/ml

50 gram Testosterone Propionate (37.5mL)

5mL BA (2%)

50mL BB (20%)

157.5 mL Oil

Test Prop 80mg/ml @250ml

Testosterone Propionate Powder 20g

Benzyl Alcohol 5ml

Benzyl Benzoate 45ml

Grapeseed Oil 185ml
>>>There are principally two desirable effects of Testosterone:
• physical / athletic performance enhancement (endurance, strength, faster regeneration)
• physique enhancement (muscle buildup, fat loss)
>>>The rest of desirable testosterone effects may experience during the steroid cycle, include: 
• increase in collagen synthesis and bone mineral content. Collagen is the protein-based construction material for connective tissues throughout the body (the ligaments, tendons, cartilage, joints, and bones).
• heightened self esteem
• deeper (manly) voice
• darkening and thickening of body hair
• increase in levels of IGF-1 and MGF hormones (which also promote muscle growth)
• increased hemoglobin (red blood cell count)
• anti-catabolic effect on muscle tissues by way of acting as an anti-glucocorticoid
 >>>Testosterone greatly increases nitrogen retention 
Testosterone greatly increases nitrogen retention thereby allowing more protein to be stored in the muscles of the body thereby increasing protein synthesis. Further, as by its nature, testosterone greatly blocks and reduces the glucocorticoid hormones in the body; the muscle wasting hormones that not only destroy muscle tissue but promote body-fat gains as well. Equally as important, as powerfully anabolic and androgenic testosterone promotes recovery and regeneration; the faster we recover the faster and greater our growth; further, the greater our regeneration the greater our athletic performance.
| | |
| --- | --- |
| Novice cutting cycle |  Testosterone Propionate 100mg eod, weeks 1-8 Winstrol (oral) 50mg ed, weeks 4-8.5  |
| Intermediate mass cycle |  Testosterone Propionate 75mg ed (150mg eod), weeks 1-10 Nandrolone Phenylpropionate 75mg ed (150mg eod), weeks 1-10 Anadrol 100mg ed, weeks 1-5  |
| Intermediate/Advanced cutting cycle |  Testosterone Propionate 100mg ed, weeks 3-12 Trenbolone Acetate 50mg ed, weeks 3-12 HGH 5IU ed, weeks 1-12 T3 Taper, weeks 5-12 (see 8 & 6 week T3 Dosages) Clenbuterol / Ephedrine, weeks 1-12  |