Product Name: Testosterone Acetate
CAS: 1045-69-8
MF: C21H30O3
MW: 330.46
EINECS: 213-876-6
MP: 139-141°C
Storage temp: Controlled Substance, -20°C Freezer
Appearance: White Solid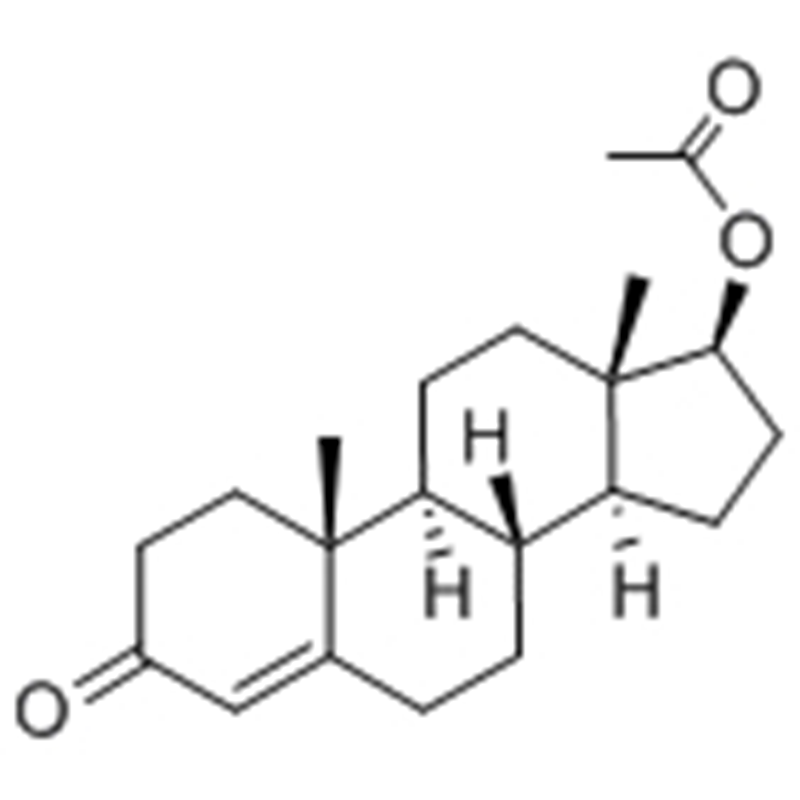 1 . combination of Testosterone and ester acetate, Testosterone Acetate is an androgenic steroid with a pronounced anabolic effect. Most acetate treatments deliver medication to the body relatively quickly.
2 . Testosterone Acetate has very low risk of water retention. Testosterone Acetate ester is much faster acting, and thus requires a more frequent schedule in order to keep blood levels as stable as possible.
3 . Athletes use Testosterone Acetate to see dramatic gain in muscle size and strength, as well as an overall sense of well being and increases libido and sex drive.
4 . The steroid can be cleared from the body much more quickly after use is discontinued, thus making it a more preferable choice for tested athletes.
Benifit: Increased Strength, Reduced Body-Fat, Increased Recovery, Increased Sex Drive, A Greater Sense of Well-Being, Increased Energy, Greater Athletic Performance, Increased Levels of IGF-1, Bulking phases of training.
Usage:Testosterone Acetate is an Androgen, commonly used for bodybuilding, physically maintaining and promoting the development of masculinity and sexual organs. It is also used to treat women with breast cancer, ovarian cancer, uterine fibroids, such as multiple myeloma and renal cell carcinoma.
Testosterone Acetate should be run at 300-700 milligrams (mgs) per week with injections done at least every 2-3 days. The minimum recommended cycle duration with boldenone acetate is 6 weeks. Some guys like to stack a little testosterone or trenbolone with it; and the beautiful part of the acetate version is that no kickstart is necessary, so you save on having to use an oral to start things off.
Testosterone Acetate ester is much faster acting than Enathate or Cypionate, and thus requires a more frequent injection schedule such as every day or every other day in order to keep blood levels as stable as possible.
(1) Sports use: To increase the amount of muscle. Some people use it to increase the number of muscles
(2) Medical uses: For none of testosterone replacement therapy, treatment of male climacteric syndrome, impotence.
(3) Other uses: Biochemical studies about natural male hormone, control male sex organs and development of male secondary sexual character and growth.
It is responsible for promoting health and well-being through enhanced libido, energy, immunity. It is also used for increasing fat loss, gaining and maintaining lean muscle mass. It helps to prevent osteoporosis (loss of bone density) and to protect against heart disease.
Testosterone binds to the Androgen Receptors (AR), which thus causes accelerated muscle gain, fat loss, and muscle repair and growth. These mechanisms are stimulated by activation of the Androgen Receptors (either directly or as DHT).
| | |
| --- | --- |
| Product name | Function |
| Testosterone Enanthate | a long lasting single ester steroid |
| Testosterone Undecanoate | main function is to promote metabolism |
| Testosterone Phenylpropionate | the principle male sex hormone and an anabolic steroides. |
| Turinabol | very good gains in strength |
| Testosterone Isocaproate | main function is to promote metabolism |
| Testosterone Cypionate | mainly used for treatment of testosterone |
| Methyltestosterone | has been used as an androgenic agent |
| Sustanon 250 | among bodybuilders and athletes for muscle building |
| Testosterone Acetate | commonly used for bodybuilding, physically maintaining |
| Testosterone Decanoate | an extremely effective bulking agent |
| Testosterone Propionate | responsible for promoting health and well-being |
| | | |
| --- | --- | --- |
| Test Items | Specification | Test Results |
| Appearance | White or almost white crystalline powder | white crystalline powder |
| Loss on drying | <=0.5% | 0.33% |
| Melting point | 139-141 C | 139-140 C |
| (HPLC)Assay | 97-103.0% | 98.65% |
| Free acid | 0.5%max | 0.31% |
| Conclusion | The product conforms analysis standard | Conform |