Exemestane
Alias: Aromasin; Exemestan
Appearance: White or Almost White Crystalline Powder
Product content: ≥ 99%CAS:107868-30-4
Molecular formula: C20H24O2
Molecular Weight:296.40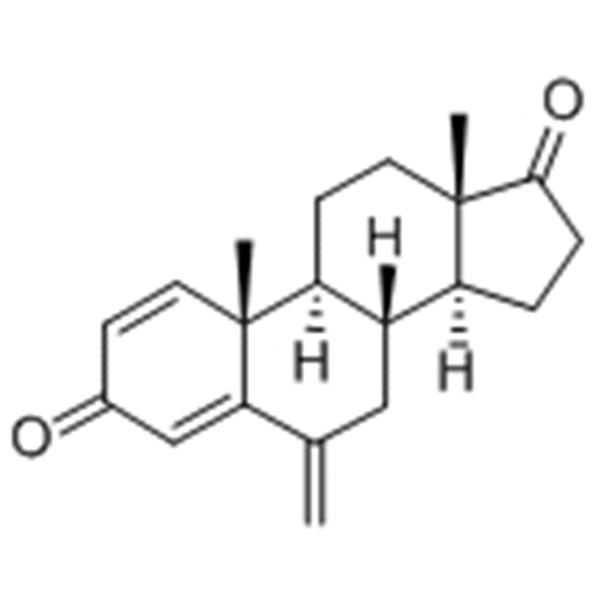 Use: used in the treatment of metastatic breast cancer . and used as aid in the treatment of early breast cancer.
You may also hear it called Aromasin, which is its best-known brand name. There are a number of other brands of exemestane, all of which contain the same dose of the drug.
Usual Adult Dose for Breast Cancer:
25 mg orally once a day
Comment:
- This drug should be administered after a meal.
Uses:
- Adjuvant treatment of postmenopausal women with estrogen-receptor positive early breast cancer who have received two to three years of tamoxifen and are switched to exemestane for completion of a total of five consecutive years of adjuvant hormonal therapy.
- Treatment of advanced breast cancer in postmenopausal women whose disease has progressed following tamoxifen therapy.
Aromasin (Exemestane acetate) is one of those weird compounds that nobody really knows what to do with. It's a third generation Aromatase Inhibitor (AI) just like Arimidex (Anastrozole) and Femera (Letrozole).
the third generation aromatase inhibitors, used in the treatment of metastatic breast cancer and used as aid in the treatment of early breast cancer.
● Aromasin is one of the most powerful estrogen suppressing compounds.
● Aromasin is one of the best compounds to lower the aromatizing effect of steroids.
● Aromasin is available for body builders taking anabolic steroids.
● Aromasin is also known as Exemestane.
● It acts by blocking the enzyme aromatase, subsequently blocking the production of estrogen.
● Aromasin is also a kind of .antineoplastic (hormonal) raw materials.
Aromasin is used to fight breast cancer and raise testosterone in the body.
Exemestane blocks the process of aromatisation. So it lowers the amount of oestrogen in the body. In early breast cancer, taking exemestane can help to stop breast cancer coming back. In advanced breast cancer the cancer cells may grow more slowly or stop growing completely.
Exemestane is an aromatase inhibitor. This means it blocks the enzyme aromatase (found in the body's muscle, skin, breast and fat), which is used to convert androgens (hormones produced by the adrenal glands) into estrogen. In the absence of estrogen, tumors dependent on this hormone for growth will shrink
>>.Bodybuilding
Steroidal Exemestane inhibitor that act by by decreasing the amount of estrogen produced by the body. It works by limiting the conversion of Testosterone into estrogen and the average rate of estrogen suppression is 85%. The drug also reduces the estradiol levels of about 50%, as well as considerably increases the testosterone levels.
Exemestane  inhibitor that works by inhibiting the synthesis of estrogen. Is effective at increasing Testosterone and IGF levels in the body. The drug is also very useful during post cycle therapy regime when one is trying to restore natural Testosterone levels to avoid a post cycle crash.
>>.Anti-estrogen drug
Being recognized as one of the most expensive drugs, Exemestane is one of the safest anti-estrogen drugs that is chiefly used by athletes and bodybuilders. Medically the drug is mainly prescribed for the treatment of breast cancer. Commonly referred as Selective Estrogen Receptor Modulator (SERM), it was earlier used for the prevention of gynocomastia.
A)

Exemestane for breast cancer prevention:
Chemoprevention of breast cancer is an effective strategy to reduce the incidence of this disease in women at risk. The first agents to show a significant chemopreventive effect were the SERMs tamoxifen and raloxifen.
An updated comprehensive analysis of all SERM prevention trials showed that they are able to reduce the incidence of breast cancer in high- and average-risk women, an effect that is sustained by a reduction in ER-positive invasive breast cancer.
B)

Exemestane is a third-generation irreversible steroidal inactivator of the aromatase enzyme and is effective in all the treatment settings for breast cancer, including chemoprevention.
In the metastatic setting, exemestane has been extensively investigated as the first-line, second-line, and further-line treatment and is now registered for the treatment of postmenopausal women with advanced hormone-receptor-positive breast cancer whose disease has progressed following antiestrogen therapy.
Of note, the potential lack of cross-resistance with NSAIs yields additional opportunities in the treatment sequence of endocrine agents. Furthermore, based on clinically meaningful results, exemestane with everolimus represents an effective therapeutic option for a disease that has progressed after exposure to NSAIs.
Exemestane is generally well tolerated, with a side effect profile similar to that of other AIs and including menopausal symptoms, arthralgia, bone loss, and altered lipid metabolism.